Welcome to Kenmor Theatre
Upcoming Production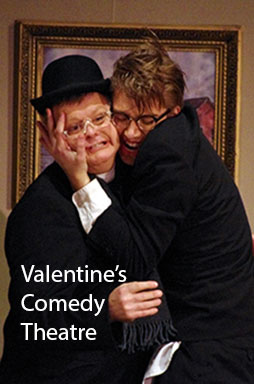 In the early 1950's, Ernie Kendall built the Kenmor theatre as an "up-to-date" theatre intended for live performance by Ernie Kendall. However, after Ernie's passing, his son Ernest W. Kendall Jr. took over the business and completed the theatre as a film theatre. Local news articles claimed "Film entertainment for Mordenites is now found in one of the finest theatres in rural Manitoba." The Kenmor was known throughout the 80's and 90's as the Morden Cinema, but it was after the turn of the century when it became a popular venue for live performances. With recent renovations, the facility continues to provide an intimate and unique setting for the arts in Morden.
The Kenmor theatre is now home to Candlewick Productions which hosts various theatre events and DanceWorks hosting a dance studio in the upper studio of the theatre, as well as a dance floor in front of the theatre auditorium stage. The theatre also hosts a number of concert and arts events organized by local arts groups such as Dead Horse Entertainment and The Back 40 Festival among others.
Online Booking
Please note when booking the Kenmor Theatre, due to the regular dance class schedule for both the Dance Studio and Auditorium Dance Floor, regular weekday bookings may be somewhat restricted during the dance season.
Upon completion of your form, you will be contacted to confirm availability and required to complete a Rental Agreement
Click on: DanceWorks Class Schedule for an 2013-14 schedule of drama and dance classes held at the Kenmor Theatre. Our season runs from September to April with student recitals and dramatic presentations in May.